Affordable Texas E-Filing for $1
File Quickly and Securely!
Take advantage of FAST, EASY, SINGLE-SCREEN e-filing, and get the support you need by live chat, phone, or email.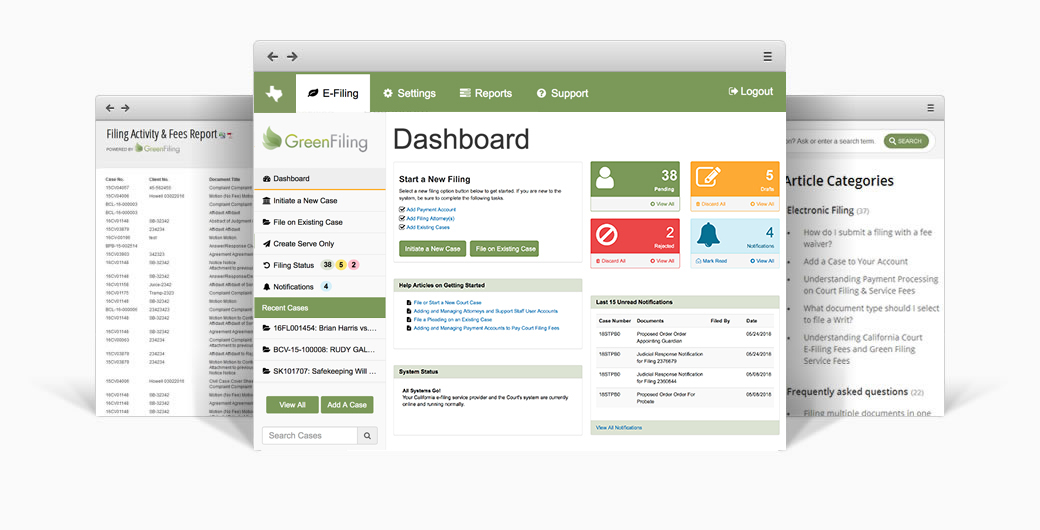 0
documents ~ and counting ~ green-filed by
0
filers!
OUR FEATURES ARE UNBEATABLE
You'll find all the standard features you would expect from your e-filing service provider, and MORE, paired with unparalleled support.
24 / 7 Devoted Support

Lean on our support team at any time of day or night, 7 days a week, by phone, email or live online chat.

PDF Conversion

No need to convert your word processing documents to PDF before filing - simply upload them for conversion to text searchable PDFs.

File Stamped Documents

Once accepted, your file stamped documents will be attached to your accepted notification email for easy access.

Case Summary Views

View basic case and party information, judge assignment, and a register of e-filing activity on your case.

Electronic Service

Complimentary electronic service and tracking along with your filing. Just identify your service contacts and we'll take care of the rest.

Detailed Reporting

Run detailed filing activity reports at any time to view all your filings and associated fees and client matter numbers.
ALL PLANS JUST $1 PER FILING SUBMISSION
Whether a large firm. solo attorney, or self represented litigant take advantage of Green Filing's advanced features and file multiple documents on a case in a single submission for just $1.
LAW FIRM
Perfect for law firms with mulitple attorneys and support staff.

$1

PER FILING SUBMISSION
Unlimited Users
FREE Electronic Service
PDF Conversion
File Stamped Documents
24/7 Devoted Support
ATTORNEY
Ideal for solo attorneys and their support staff, also supports multiple attorneys.

$1

PER FILING SUBMISSION
Unlimited Users
FREE Electronic Service
PDF Conversion
File Stamped Documents
24/7 Devoted Support
INDIVIDUAL (PRO SE)
Great for self-represented litigants and out of state attorneys.

$1

PER FILING SUBMISSION
1 User Only
File Stamped Documents
Limited Support
TESTIMONIALS
---
Pierce & Shearer, LLP ~ Redwood City, CA
We are very excited to use your service. I love that it found our filings and populated everything without anything more than the county and case number, and then found other cases too! so easy!
B. Browning ~ Lagerlof Senecal Gosney & Kruse LLP
Joe B. (live chat agent) was amazing, professional and an efiling wizard. Yesterday was my first attempt in efiling and I couldn't have done it without Joe's help. I just received an email confirming my successful efiling from the Court!
Beth Brush ~ Mason, Robbins, Browning & Godwin
We watched your training video and the system looks great. We have used Odyssey and were not sure how Green Filing would be different until we watched the video. I want to send my compliements on how much easier Green Filing is to use. And the live chat feature to get answers to questions is amazing! I also love that we can simply edit and re-file rejected documents rather than starting over. We are very happy with Green Filing.
Brian Mathias ~ Law Office of Brian Mathias
By the way, your user interface is leagues better than the competitors. And there's no easily accessible live chat feature through Odyssey. In the context of a tech problem that prohibits filing of legal papers, live chat really saves time.
Lareema Martin ~ BerkeHakimi
I really appreciate that I am able to chat with you so quickly. The other two sites offered on the Santa Barbara web site for e-filing were not as helpful or intuitive as far as navigating through self-help. Thank you.
April Paige ~ Liberty Acquisitions Servicing, LLC
We are a growing debt collection company and currently use Green Filing as our e-filing service provider in the State of Utah. As our company grows, Green Filing continues to work with us to facilitate a more accurate and efficient filing process. We are very impressed with their professionalism and customer service.
Howard Graham ~ Attorney, Santa Cruz, CA
I just wanted to thank your company for making this process super easy.
FREQUENTLY ASKED QUESTIONS
Are there any other fees associated with e-filing through Green Filing?
Yes, there may be. Some counties charge a $2.00 e-filing service fee to process your filing. If the county you are filing in charges this fee, you will see it clearly displayed. In addition, if the filing you are submitting has court filing fees that are due, the court adds an approximate 3% credit card convenience fee for allowing the payment of those fess with a credit card. This convenience fee, and the county fee, is not charged or collected by Green Filing. Green Filing's service fees are billed separately on a monthly basis.
What is a filing submission, or filing envelope?
A filing submission, commonly referred to by the court as a filing envelope, is a single submission of documents to the court for a case. A filing submission may contain multiple documents or pleadings as long as they are intended for the same case.
Are there any file size limits, or limits on the number or documents or pages contained in a filing submission?
There are no limits on the number of pages or documents, however the court does restrict the file size of any single document to a maximum of 35 MB and the total file size of all documents in a filing submission to a maximum of 100 MB.