UTAH E-FILING MADE EASY!
Take advantage of FAST, EASY, SINGLE-SCREEN e-filing, and get the support you need by live chat, phone, or email.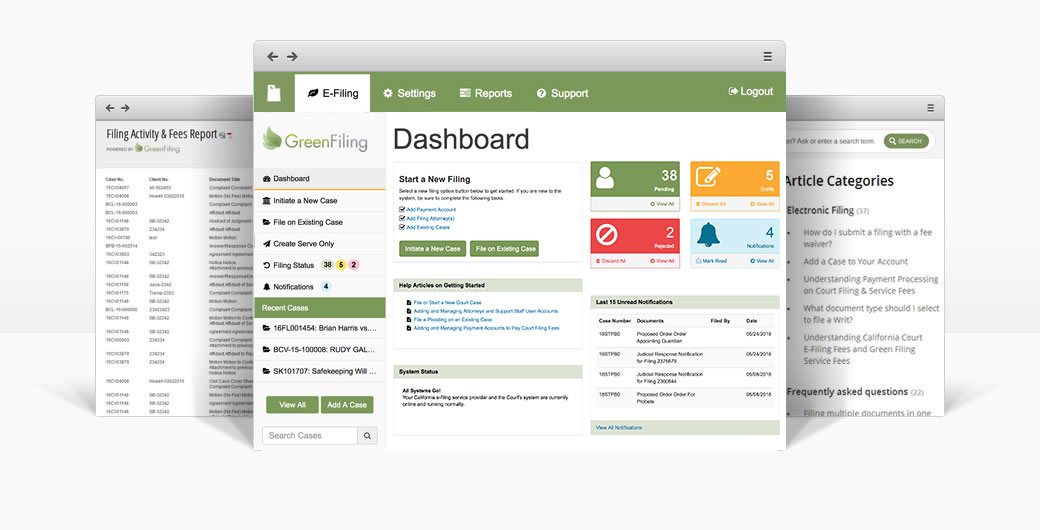 0
documents ~ and counting ~ green-filed by
0
filers!
OUR FEATURES ARE UNBEATABLE
You'll find all the standard features you would expect from your e-filing service provider, and MORE, paired with unparalleled support.
24 / 7 Devoted Support

Lean on our support team at any time of day or night, 7 days a week, by phone, email or live online chat.

Single Screen E-Filing

Designed to be the fastest e-filing interface, complete your filing in a single screen to have it filed and accepted within minutes.

Case Histories

Full access to your cases at your fingertips. As an attorney of record on a case, you may view the case docket and documents at any time.

Electronic Service Notices

As an attorney of record, you and your authorized support staff will be notified my email of new filings on your cases.

Email Attachments

You may opt to have documents attached to your new filing email notifications, or to simply provide a link to download the document.

Detailed Reporting

Run detailed filing activity reports at any time to view your filing activity and associated filing fees and client matter numbers.
THE 1ST MONTH IS FREE WITH ALL PLANS
We offer the BASIC plan as a pay-as-you-go option for lower volume filers, and the PLUS subscription plans for higher volume filers. The first month of Green Filing's service fee is FREE with all new plans (court filing fees still apply).
BASIC
Pay-As-You-Go Unlimited E-Filing Submissions
Single User Account
FREE Electronic Service
Case History Access
Document Access
24/7 Devoted Support

$5

PER FILING SUBMISSION
PLUS
MOST POPULAR PLAN
FREE Support Staff Accounts
FREE Electronic Service
Case History Access
Document Access
24/7 Devoted Support

$29

MONTHLY PER ATTY
GROUP
Discounted Rates for PLUS Account Groups
2 - 5 Attorneys ($27)
6 - 10 Attorneys ($25)
11 - 20 Attorneys ($22)
21+ Attorneys ($19)
Rates Are Per Attorney

$19-$27

MONTHLY PER ATTY
TESTIMONIALS
---
Pierce & Shearer, LLP ~ Redwood City, CA
We are very excited to use your service. I love that it found our filings and populated everything without anything more than the county and case number, and then found other cases too! so easy!
B. Browning ~ Lagerlof Senecal Gosney & Kruse LLP
Joe B. (live chat agent) was amazing, professional and an efiling wizard. Yesterday was my first attempt in efiling and I couldn't have done it without Joe's help. I just received an email confirming my successful efiling from the Court!
Beth Brush ~ Mason, Robbins, Browning & Godwin
We watched your training video and the system looks great. We have used Odyssey and were not sure how Green Filing would be different until we watched the video. I want to send my compliements on how much easier Green Filing is to use. And the live chat feature to get answers to questions is amazing! I also love that we can simply edit and re-file rejected documents rather than starting over. We are very happy with Green Filing.
Brian Mathias ~ Law Office of Brian Mathias
By the way, your user interface is leagues better than the competitors. And there's no easily accessible live chat feature through Odyssey. In the context of a tech problem that prohibits filing of legal papers, live chat really saves time.
Lareema Martin ~ BerkeHakimi
I really appreciate that I am able to chat with you so quickly. The other two sites offered on the Santa Barbara web site for e-filing were not as helpful or intuitive as far as navigating through self-help. Thank you.
April Paige ~ Liberty Acquisitions Servicing, LLC
We are a growing debt collection company and currently use Green Filing as our e-filing service provider in the State of Utah. As our company grows, Green Filing continues to work with us to facilitate a more accurate and efficient filing process. We are very impressed with their professionalism and customer service.
Howard Graham ~ Attorney, Santa Cruz, CA
I just wanted to thank your company for making this process super easy.
FREQUENTLY ASKED QUESTIONS
Are there any other fees associated with e-filing through Green Filing?
There are no additional fees other than the fee you pay Green Filing for use of the service, and any Court filing fees that may be due depending on the type of filing you are submitting.
What is a filing submission?
A filing submission is a single submission of documents to the court for a case. A filing submission may contain multiple documents or pleadings as long as they are intended for the same case.
Does your e-filing service also provide for electronic service to opposing counsel?
Yes. With each filing submitted the Utah State Courts facilitate electronic notifications to all attorneys of record on the case who are signed up for e-filing. If attorneys exist on a case who are not e-filers, then as the filer you are expected to serve them by traditional means. After each filing, the court delivers a Notification of Electronic Filing (NEF) which will indicate which attorneys were served electronically and which need to be served traditionally.
Are there any file size limits, or limits on the number or documents or pages contained in a filing submission?
Yes. The Utah State Courts have imposed a file size limit of 7 MB for any single file, and 15 MB for the total of all document included in a submission. There is no limit to the number of documents or pages submitted in a filing submission as long as you do not exceed the total file size limit and all the documents are intended for a single case.