RIVERSIDE CIVIL CASE E-FILING MADE EASY!
Take advantage of FAST, EASY, SINGLE-SCREEN e-filing, and get the support you need by live chat, phone, or email.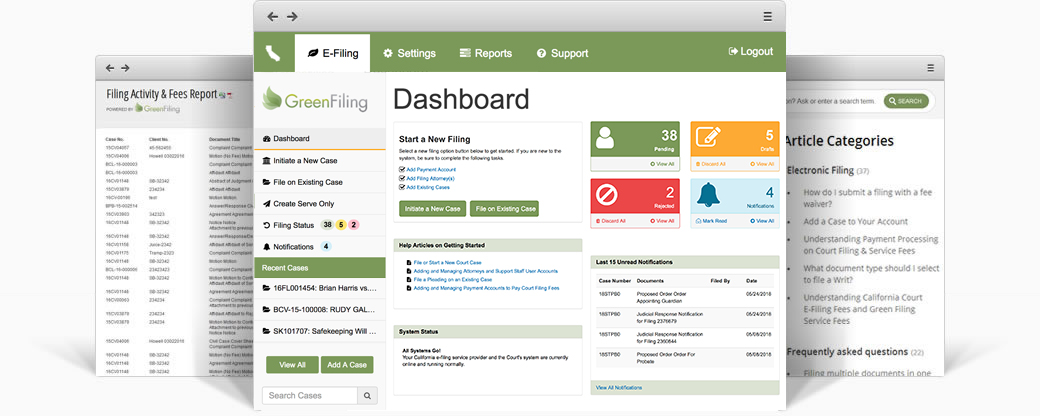 0
documents ~ and counting ~ green-filed by
0
filers!
OUR FEATURES ARE UNBEATABLE
You'll find all the standard features you would expect from your e-filing service provider, and MORE, paired with unparalleled support. Please note that the availability of specific features may vary by state.
24 / 7 Devoted Support

Lean on our support team at any time of day or night, 7 days a week, by phone, email or live online chat.

PDF Conversion

No need to convert your word processing documents to PDF before filing, simply upload them for conversion to text searchable PDFs.

File Stamped Documents

Once accepted, your file stamped documents will be attached to your confirmation email for easy access.

Case Summary Views

View basic case and party information, judge assignment, and a register of e-filing activity on your case.

Electronic Service

Complimentary electronic service and tracking along with your filing. Just identify your service contacts and we'll take care of the rest.

Detailed Reporting

Run detailed filing activity reports at any time to view your filing activity and associated filing fees and client matter numbers.

Courtesy Copy Delivery

Order hand delivery of paper courtesy copies to courts (add'l fees apply).

Mail Service

Serve documents to any party via Certified or First Class Mail (add'l fees apply).

Copy Filings Feature

Copy any draft, envelope, or serve only filing for easier submissions to the courts.
RIVERSIDE CIVIL CASE E-FILING RATES
LAW FIRM
Perfect for law firms with mulitple attorneys and support staff.
$8.85*PER FILING SUBMISSION
Unlimited Users
24/7 Devoted Support
ATTORNEY
Ideal for solo attorneys and their support staff, also supports multiple attorneys.
$8.85*PER FILING SUBMISSION
Unlimited Users
24/7 Devoted Support
INDIVIDUAL (PRO SE)
Great for self-represented litigants and out of state attorneys.
$8.85*PER FILING SUBMISSION
1 User Only
No Live Support
FREE Electronic Service
PDF Conversion
File Stamped Documents
Detailed Reporting
Case Summary Views
Copy Filing Feature
US First Class Mail Service**
Certfied Mail Service**
Courtesy Copy Delivery***
*Court fees and transaction costs not included.
**Additional fees apply. Mailing fulfillment center based in Scottsdale, Arizona.
***Additional fees apply.
FREQUENTLY ASKED QUESTIONS
Are there any other fees associated with e-filing through Green Filing?
For e-filing into Riverside County civil cases, you will pay any court filing fees due based on the California Courts statewide fee schedule for each filing submission. In addition, filing fees are required to be paid electronically, either by credit card or e-check and therefore in order to ensure the court receives its full payment a processing fee of 3.00% is added for the use of a credit card, or $1.00 flat is added for the use of an e-check.
What is a filing submission, or filing envelope?
A filing submission, commonly referred to by the court as a filing envelope, is a single submission of documents to the court for a case. A filing submission may contain multiple documents or pleadings as long as they are intended for the same case.
Do you offer any additional services such as service of process or records retrieval?
Green Filing itself does not provide these types of additional services on its own, however, we have partnered with several attorney and legal service firms in California to provide them their own e-filing portals so that they may provide you these additionals services. Click here, or select Features > Our Partners in the site navigation to learn more.
Are there any file size limits, or limits on the number or documents or pages contained in a filing submission?
For e-filing in Riverside County civil cases, there are no file size limitations. You may submit documents without any limitation on the number of pages, documents, or overall file size. We do recommend, however, in order to optimize performance of the e-filing system, that you reduce your files sizes as best as possible (200MB or smaller). If scanning, be sure to scan in black and white, and at no higher a resolution that 300 dpi.
TESTIMONIALS
---
Pierce & Shearer, LLP ~ Redwood City, CA
We are very excited to use your service. I love that it found our filings and populated everything without anything more than the county and case number, and then found other cases too! so easy!
B. Browning ~ Lagerlof Senecal Gosney & Kruse LLP
Joe B. (live chat agent) was amazing, professional and an efiling wizard. Yesterday was my first attempt in efiling and I couldn't have done it without Joe's help. I just received an email confirming my successful efiling from the Court!
Beth Brush ~ Mason, Robbins, Browning & Godwin
We watched your training video and the system looks great. We have used Odyssey and were not sure how Green Filing would be different until we watched the video. I want to send my compliements on how much easier Green Filing is to use. And the live chat feature to get answers to questions is amazing! I also love that we can simply edit and re-file rejected documents rather than starting over. We are very happy with Green Filing.
Brian Mathias ~ Law Office of Brian Mathias
By the way, your user interface is leagues better than the competitors. And there's no easily accessible live chat feature through Odyssey. In the context of a tech problem that prohibits filing of legal papers, live chat really saves time.
Lareema Martin ~ BerkeHakimi
I really appreciate that I am able to chat with you so quickly. The other two sites offered on the Santa Barbara web site for e-filing were not as helpful or intuitive as far as navigating through self-help. Thank you.
April Paige ~ Liberty Acquisitions Servicing, LLC
We are a growing debt collection company and currently use Green Filing as our e-filing service provider in the State of Utah. As our company grows, Green Filing continues to work with us to facilitate a more accurate and efficient filing process. We are very impressed with their professionalism and customer service.
Howard Graham ~ Attorney, Santa Cruz, CA
I just wanted to thank your company for making this process super easy.
OUR PARTNERS
If you need more than just e-filing, then consider utilizing one of the attorney service firms that have chosen to become e-filing service providers powered by Green Filing. By doing so, you can easily take advantage of the additional services they offer such as Service of Process, Courier Services, Records Research & Retrieval, Skip Tracing, and more.
1692 Mangrove Ave, #200
Chico, California 95926

811 Wilshire Blvd, Suite 900
Los Angeles, CA 90017

7190 W Sunset Blvd, #87
Los Angeles, CA 90046

39 California Street Suite 172
Valley Springs, CA 95252


Los Angeles

509 Marin St #237
Thousand Oaks, CA 91360

611 Wilshire Blvd., Suite 700
Los Angeles, CA 90017

142 E. Bonita Avenue #51
San Dimas, CA 91773

1625 The Alameda #511
San Jose, CA 95126

3637 Glendon Ave Suite 203
Los Angeles, CA 90034


Walnut Creek, CA

31 E Julian Street
San Jose, CA 95112


Los Angeles

PO Box 542
Capitola, CA 95010

1069 N. Fulton Street
Fresno, CA 93728

1060 Palm Street, Suite D
San Luis Obispo, CA 93401

6709 Greenleaf Ave, Suite 314
Whittier, CA 90601

Phone
(818) 452-8571

18375 Ventura Blvd Suite 440
Tarzana, CA 91356

Phone
415-938-9135

1875 Century Park East, Suite H
Los Angeles, CA 90067

Sacramento and Redding
Offices

2920 Camino Diablo #100
Walnut Creek, CA 94597

645 W. 9th St. # 110-302
Los Angeles, CA 90015

31 N. Second Street, Ste. 200
San Jose, CA 95113


Los Angeles

27943 Seco Canyon Road, # 159
Santa Clarita, CA 91350

42 N. Sutter Street, Ste 306
Stockton, CA 95202

2511 Garden Road, Suite B-100
Monterey, CA 93940

12440 Firestone Blvd Suite 2007
Norwalk, CA 90650

P.O. Box 91985
Signal Hill, CA 90755

6604 Normandie Ave
Los Angeles, CA 90044

1128 E 6th Street, Suite 2
Corona, CA 92879

16700 Valley View Ave Suite 440
La Mirada, CA 90638

7710 Hazard Center Dr. Suite E-140
San Diego, CA 92108

19197 Golden Valley Road, #916
Santa Clarita, CA 91387
BRANDED E-FILING PORTALS
Are you an attorney or legal service firm looking to provide your customers an e-filing solution? We can provide your company your very own e-filing portal powered by Green Filing. Contact us for more information.